Matsumoto
Matsumoto is a city with National Treasure Matsumoto Castle in the center. The city planned around the castle is located in the central district of Nagano prefecture.
Along with the atmosphere of the castle town, many historic buildings remain such as the former Kaichi School. There are famous hot springs such as Asama hot spring and Utsukushigahara hot spring around Matsumoto downtown area, and you can get there in about 30 minutes by bus.
Access
From Shinjuku; take "Matsumoto Line" on Chuo highway bus, get off at Matsumoto Bus Terminal
Sightseeing Spot
Kamikochi
Kamikochi, one of the best mountain resorts in Japan, is located at an altitude of 1,500 m in Chubu Mountains National Park. It is also designated as a national cultural heritage and fomous in worldwide.
Walking paths connecting many superb view spots are flat, easy to walk, and the signposts are solid, so even beginners can easily enjoy the mountain walking.
For environmental conservation, entering private cars are prohibited from the road leading to Kamikochi. You can access only by Shuttle bus or taxi from Shin-shimashima, Sawando, Hirayu Spa and so on. Tourist season is from late April to November 15.
Access
From Shinjuku; take "Kamikochi Line" on Chuo highway bus.
Reservation for Highway bus "Kamikochi Line" from here ( Highway-buses.jp )
Or, From Shinjuku; take "Matsumoto Line" on Chuo highway bus, get off at Matsumoto Bus Terminal and take a route bus for Kamikochi. You may take the Matsumoto Dentetsu (Alpico Railway) from Matsumoto Station to Shin-Shimashima Station, and transfer at Shin-Shimashima Station to a bus for Kamikochi
Sightseeing Spot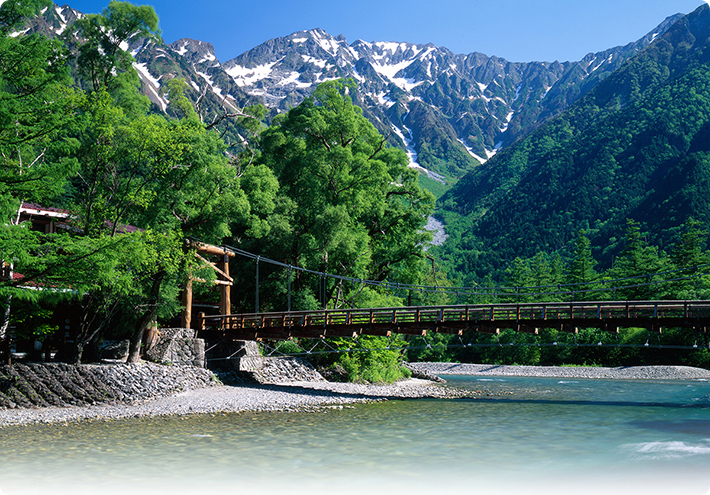 Kappa Bridge (Kappa-bashi)
It is a suspension bridge with a length of 36.6 m crossing the Azusa River, and it is a good photo spot for Mt. Hotaka and Mt. Yakedake. The area between the bus terminal and Kappa Bridge is the center area of Kamikochi where hotels, restaurants and souvenir shops gather.
Taisho Pond (Taisho ike)
This pond was created when the eruption of Mt. Yakedake in 1915 caused a mudslide which blocked the Azusa River. In the morning haze, with the view of the trees standing withered in the pond and Mt. Hotaka and Mt. Yakedake being reflected on the surface of the pond, Taishō Pond is one of the most popular scenic points in Kamikōchi.
【Access】Take the bus for Kamikochi, get off at Taisho Ike (Taisho Pond)
Myojin Pond (Myojin ike)
At the foot of the steep Mt. Myojindake, Myojin Pond has crystal clear water. On the pondside, there is Hotaka Shrine Okumiya, which is considered to be the general guardian of the Japanese Alps.
Tashiro Marshland (Tashiro Shitsugen)
It is a marshland formed by about 1,500 years. Breathtaking Japanese Azalea (Rhododendron japonicum) and Sagisuge (Eriophorum gracile) flowers can be seen in the summer, and it is famous for the view of Hotaka mountains over the mashland. Tashiro pond surrounded by larch forest is located in the area, and scenery of morning fog and rime ice is especially fantastic.